GIFT VOUCHER ($225)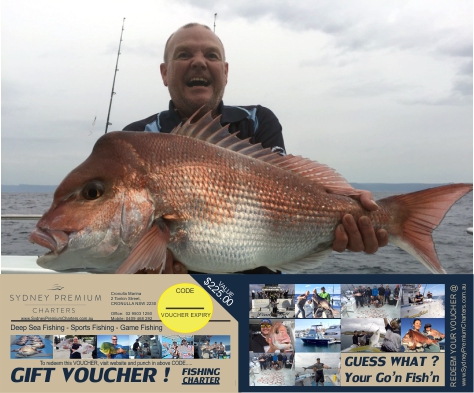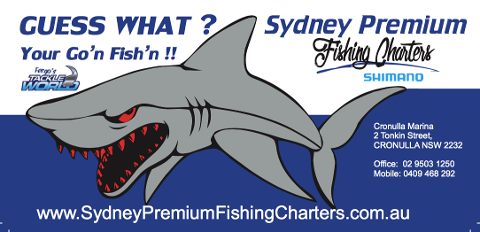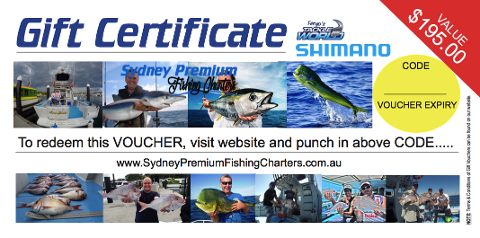 THE BOAT (included)
- 6.5hr Fishing Charter
- Experienced fishing guides.
- All fishing equipment, bait, fishing licences, etc.
- Bluetooth music system for guests to connect with their iPhones.
- We have a clean and modern marine toilet
- Fresh water taps and sink to wash hands and equipment.
BREAKFAST (included)
- Toasted Cheese Sandwiches for breakfast
- Coffee,
- Tea,
- Bakery biscuits,
- Lollies
- Potato chips
DRINKS (included)
- Selection of soft drinks and bottled water are included...
- Alcohol is BYO and IF POSSIBLE can you bring cans…. not bottles.
SNACKS (included)
- Throughout the day a selection of bakery biscuits, bars, chips and lollies.
- If you have any dietary requirements, please ensure you are equipped.
LUNCH (included)
- BBQ steak and salad sandwiches cooked fresh on board with multiple condiments.
DEPOSIT/PAYMENT
- A pre-approved credit / debit card will be required to confirm this booking.
- This card WILL NOT be charged until the day of you charter in accordance with our CANCELLATION POLICY.
- If you wish to pay CASH on the day, this is OK with us…
- We just hold your card details on file in case incase of a breach of the cancellation policy at which time the card will be charged.
CONFIRMATION
- Once you book your charter, you will receive confirmation of the booking via email and txt.
If you have any questions, please just let us know….